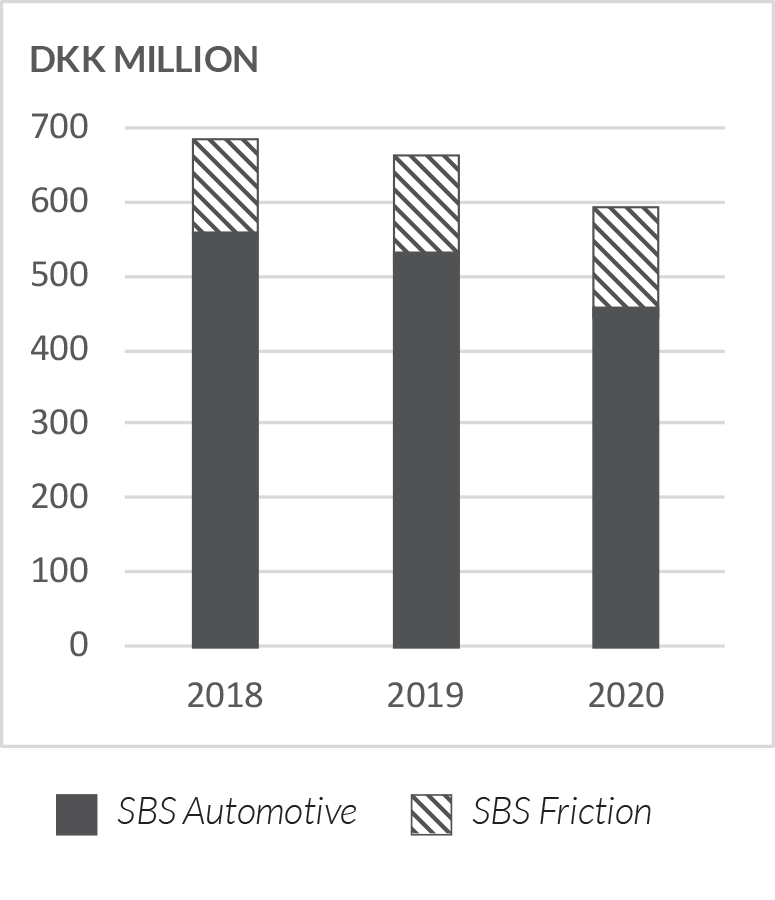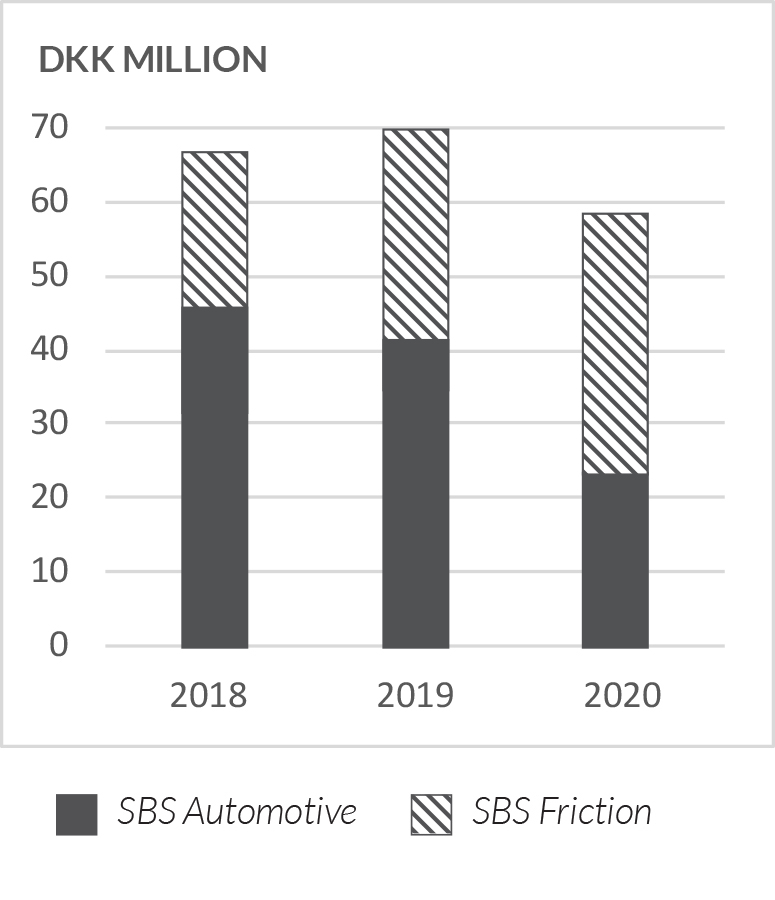 NET INTEREST-BEARING DEBT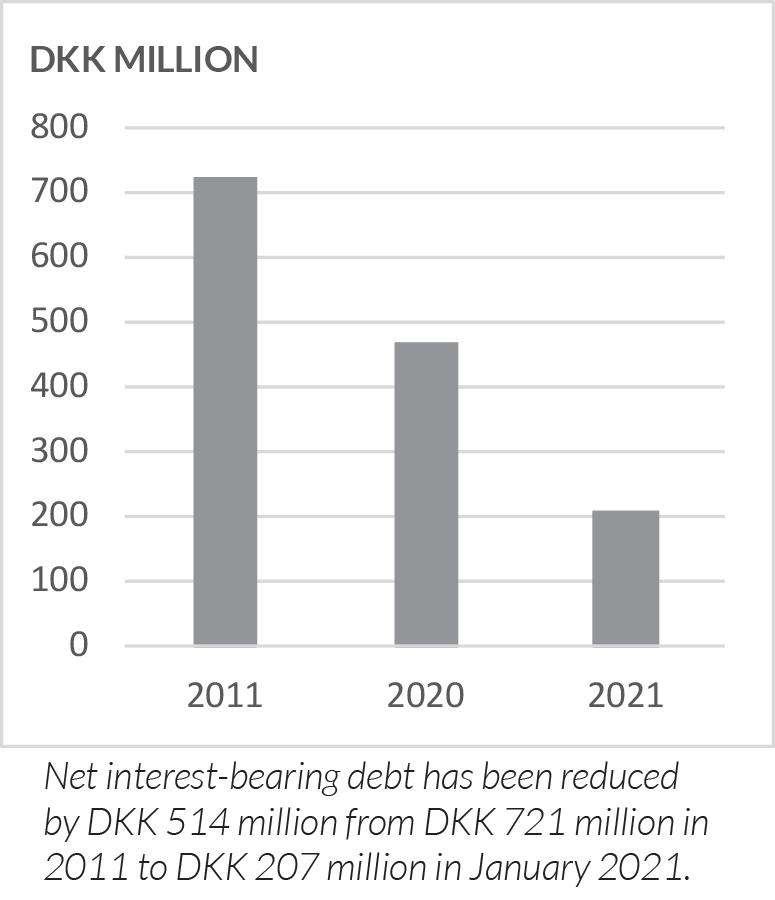 2020 was a special and eventful year for the SBS Group. On the one hand, we succeeded in selling SBS Friction with takeover on 7 January 2021 at a good price, which made it possible for us to considerably reduce SBS Group's high, interest-bearing debt. On the other hand, our continuing operation, SBS Automotive, was severely affected by COVID-19 despite several good, strategic and productivity-enhancing initiatives.
In terms of results, we lived up to the expectations announced in our interim report. SBS Friction reported record-breaking results, whereas SBS Automotive suffered from the consequences of the pandemic due to reduced driving, lockdown of repair shops, restrictions on trade in auto spare parts and pressure on supplies from Asia.
On a directly comparable basis, the SBS Group reported revenue of DKK 593 million and operating profit (EBITDA recurring) of DKK 48 million. Due to the sale on 7 January 2021, SBS Friction has been moved to the line item "Profit /loss from discontinuing operations after tax" in the financial statements where SBS Friction contributes with DKK 17 million. The reported revenue and operating profit in the SBS Group comprise only SBS Automotive and the Parent Company, and the SBS Group's operating profit before depreciation, amortisation and impairment losses (EBITDA recurring) decreased in 2020 to DKK 10 million, partly due to the effect of the pandemic on SBS Automotive and partly due to increasing expenses in the Parent Company for strategic projects, not least the sale of SBS Friction.
The loss for the year totalled DKK 12 million, including the contribution from SBS Friction.
The right owner
When selling SBS Friction, we pursued two goals. One of the goals was to obtain the highest price possible, the other was to ensure that we found the right new home for the company. Our sale to the Italian Brembo, the world's leading manufacturer of brake systems, fulfilled both goals. Before the sale, Brembo was a large customer and important cooperating partner to SBS Friction, and therefore, Brembo had the best possibilities of assessing and realising the potential in SBS Friction's technology and market position. Brembo is a strong, global group which counts almost all important car manufacturers and motor manufacturers among their customers and they can therefore open many doors to SBS Friction. Although Brembo has factories on several continents, they do not have a site capable of delivering the same as SBS Friction within development and manufacturing of brake lining. Therefore, Brembo continues operations in Svendborg.
The sale is thus a perfect solution to the SBS Group, SBS Friction's employees and Svendborg town. The sales price of DKK 300 million implies a gain of DKK 152 million, which we recognise as income in the consolidated financial statements for 2021 when Brembo obtains control.
Reduction of debt
The SBS Group has for several years had negative equity due to the considerable write-downs on the Notox shares sold in 2010 and 2015. Although the Group has succeeded – however not in 2020 – to re-establish some of the lost equity, equity was negative by DKK 155 million at the end of 2020, corresponding to an asset value per share of minus DKK 48.4. When recognising the gain on the sale of SBS Friction of DKK 152 million, the Group's equity totalled a negative DKK 3 million in January 2021.
The imbalance is attributable to the net interest-bearing debt, which also relates to the Notox adventure. The current Board of Directors and the Executive Board have been working hard to reduce the debt and made a progress. In 2011, when reaching a peak, debt totalled DKK 721 million, and up until the end of 2020, we succeeded in reducing the net interest-bearing debt to DKK 467 million, and in January 2021, we used the gain from the sale of SBS Friction to further reduce our debt. In January 2021, net interest-bearing debt thus totalled approx. DKK 207 million. This has reduced pressure, but the debt is still quite high, and after selling SBS Friction, we only have one entity left to generate the earnings needed to service our debt. Therefore, we still rely on our good cooperation with our two main bankers.
Challenges to SBS Automotive
SBS Automotive's main market, the open automotive aftermarket in Europe, is still undergoing drastic change and subject to increasing consolidation, which leads to larger entities while the number of small customers decreases. Competition is fierce, which puts prices under constant pressure and requires efficiency and critical mass.
Adjusting SBS Automotive to this reality is an ongoing task, which we base on our efforts to create value to our customers, close partnership agreements with the largest players, cultivate new markets as well as engage in continuous product development and assortment development. The basis is a strong supply chain with sourcing, logistics and a high service level.
2020 started off well for SBS Automotive with two good months, but then in March, the aftermarket in Europe was severely affected by the pandemic, which caused the countries to lock down workshops and physical trade in auto parts, and citizens had to stay home and therefore did not use their car. The same scenario took place when the second wave surged Europe late in 2020. The request for replacement of cars' wear parts decreased, and our customers focused on reducing their inventories and scaling down activities.
Based thereon, SBS Automotive did rather well thanks to its broad product range, efficient sourcing platform and logistics platform as well as our managers' and employees' hard work. We succeeded in increasing sales in a few markets, winning market shares in others while noting growth in the digital area. However, revenue decreased by 14% due to the recession in particularly Germany, and operating profit was more than halved due to decreasing sales and changes in the customer mix and product mix.
Consolidation is required
COVID-19 will speed up the drastic change in SBS Automotive's markets. The financial situation of a number of players, in particular the small ones, has worsened during the pandemic, and this will further speed up the consolidation. E-commerce with spare parts has also accelerated and will increase pressure on dealers with traditional business models.
When customers reduce in number, but increase in size, and can put pressure on the prices due to increasing volumes, would it be worth exploring whether consolidation of suppliers could also add value? Could we strengthen SBS Automotive's sourcing, storing, logistics, customer service and administration by means of cooperation, alliances, mergers or other measures and gain resources to develop new products and services? We are in the process of exploring those possibilities.
As you know, we tested the interest in consolidation already in 2018-19. Back then, the time was not right. Now it seems as if things are changing, and therefore, as announced when selling SBS Friction in November 2020, we are exploring the possibilities this might give SBS Automotive.
Outlook for 2021
We are optimistic about 2020. So far, we are within budget, which is satisfactory.
SBS Automotive will still focus on large, solid customers and work on ensuring its part of these customers' purchases, i.a. based on the broad product range within brake callipers, which we introduced in 2020. The geographical expansion also continues. We must get back to "normal", bearing in mind, however, that the first half year will still be characterised by the pandemic until Europe has gained better control over COVID-19.
We expect to report revenue of DKK 470-490 million and to improve EBITDA recurring in SBS Automotive to DKK 30-50 million. The SBS Group is expected to report EBITDA recurring of DKK 20-25 million after deduction of costs for the Parent Company's operations. To this should be added the gain from the sale of SBS Friction totalling DKK 152 million.