PROFILE
SBS Automotive sources, completes, stocks, markets and distributes spare parts for cars and vans up to 3,500 kg.
The Company's product range comprises wear parts, in particular mechanical and hydraulic brake parts, steering components, suspension, transmission, clutches, wheel bearings and engine mounts. SBS Automotive's products cover approx. 95% of the volume of the European fleet of cars. However, for the most important brake parts such as brake discs and drums, the market coverage is as high as 98%.
The products are primarily sold on the open European spare parts market for cars and vans. Germany is the largest market, and Russia, Scandinavia, France, Poland and Great Britain are other important markets. Moreover, SBS Automotive's sales in Turkey and the Middle East are increasing.
Most of the markets are supplied and serviced from the distribution centre in Eisenach (Germany), which also handles packaging of brake shoes.
The satellite centres in Støvring (Denmark) and Chaumont (France) primarily focus on local markets with day-to-day supplies. Moreover, SBS Automotive has a sales office in Moscow (Russia), which focuses on Russia and Belarus.
Furthermore, SBS Automotive has logistics and packaging facilities for brake discs and drums in Stettin (Poland) in cooperation with an external partner.
The majority of volumes are sold under SBS Automotive's own brands, NK and Eurobrake, In Europe, the NK brand is typically positioned so that it represents a good alternative to premium brands in terms of quality, product range and logistics. Consequently, NK is suitable for both distributors who only carry one brand in each product group and large chains that need a quality brand to supplement their premium brand. The brand Eurobrake is primarily used for the e-commerce segment and is solely sold in the product groups brake discs, brake drums and brake callipers.
The remaining part of sales is primarily made as private labels within brake discs, brake drums and brake shoes.
The customers comprise a broad spectrum of international, national and local distributors, including capital chains, purchasing groups independent distributors and e-commerce platforms.

OPERATIONS AND MARKETS IN 2020
The free European spare parts market was characterised by considerable volatility due to COVID-19. The pandemic reduced driving in all countries, which lead to less wear and tear on cars and a reduction in the replacement of the cars' wear parts. In addition, repair shops and other retailers dealing in spare parts were locked down most of the year.
Otherwise, SBS Automotive reported reasonable results in the beginning of 2020. Revenue in January and February was up on expectations and almost at the same level as the year before. However, during March, COVID-19 started affecting supplies from China, and several suppliers suspended operations for a short period or reduced their capacity, which forced SBS Automotive to look for alternative suppliers for critical products.
At the same time, in March, COVID-19 impacted the demand for spare parts in the aftermarket, and the effect increased in April as several markets more or less closed down, i.a. in Russia, the UK/Ireland, Poland, the Czech Republic and Germany, where retail trade in spare parts was in fact forbidden. At the same time, citizens' freedom of movement was restricted, leading to a considerable decline in driving and thereby in the need for replacing the cars' wear parts.
The effects were still notable way into June when the demand for spare parts seemed to recover, and markets such as Russia, France, Poland and most of Scandinavia reached the pre-COVID-19 level or better. Demand improved even more in Q3 in several markets, however not in Germany, the UK/Ireland and Italy.
In Q4, Europe experienced the second wave of coronavirus, leading to new lockdowns and more restrictions regarding driving and retail sale in spare parts, and many of SBS Automotive's customers decided to reduce their spare parts inventories. Moreover, the pressure on the supply chain from China increased, which lead to bottlenecks in transportation capacity, considerable delays and high freight prices, which ultimately affected SBS Automotive's supply capability. Our competitors were also affected, and the supply problems are assessed not to have implied any loss of customers.
Increasing market shares
Although all markets were affected by COVID-19, SBS Automotive succeeded in gaining market shares in several markets. SBS Automotive's sales increased in Russia, the Ukraine and Norway (online sales) driven by large, country-wide partners, who phased in a major part of the NK programme. Also sales in the small, new markets in Finland and Iceland developed reasonably. The large French market also reported a high level after SBS Automotive had changed its sales strategy, increasingly using the large distributors in the country.
SBS Automotive noted the largest decline in 2020 in the structurally challenging open aftermarkets for spare parts in Denmark and Germany. In Germany where competition was fierce already, premium brands reduced their prices to obtain volume and cash flow, and at the same time, the small wholesalers started sourcing products from Poland at lower prices, which implied that the large wholesalers lost revenue in the trading segment. Sales in Italy and the UK/Ireland also decreased, primarily due to the COVID-19 crisis.
In H1, SBS Automotive made use of COVID-19 relief packages in Denmark, Germany and France to temporarily send home employees with wage subsidies or ask employees to work reduced hours. Also the logistics and packaging operation in Poland, which is managed by an external party, made temporary capacity adjustments. In June, employment at SBS Automotive's facilities was re-established. In H2, capacity in Germany saw minor adjustments according to national aid schemes.
Allocation of revenue 2019 and 2020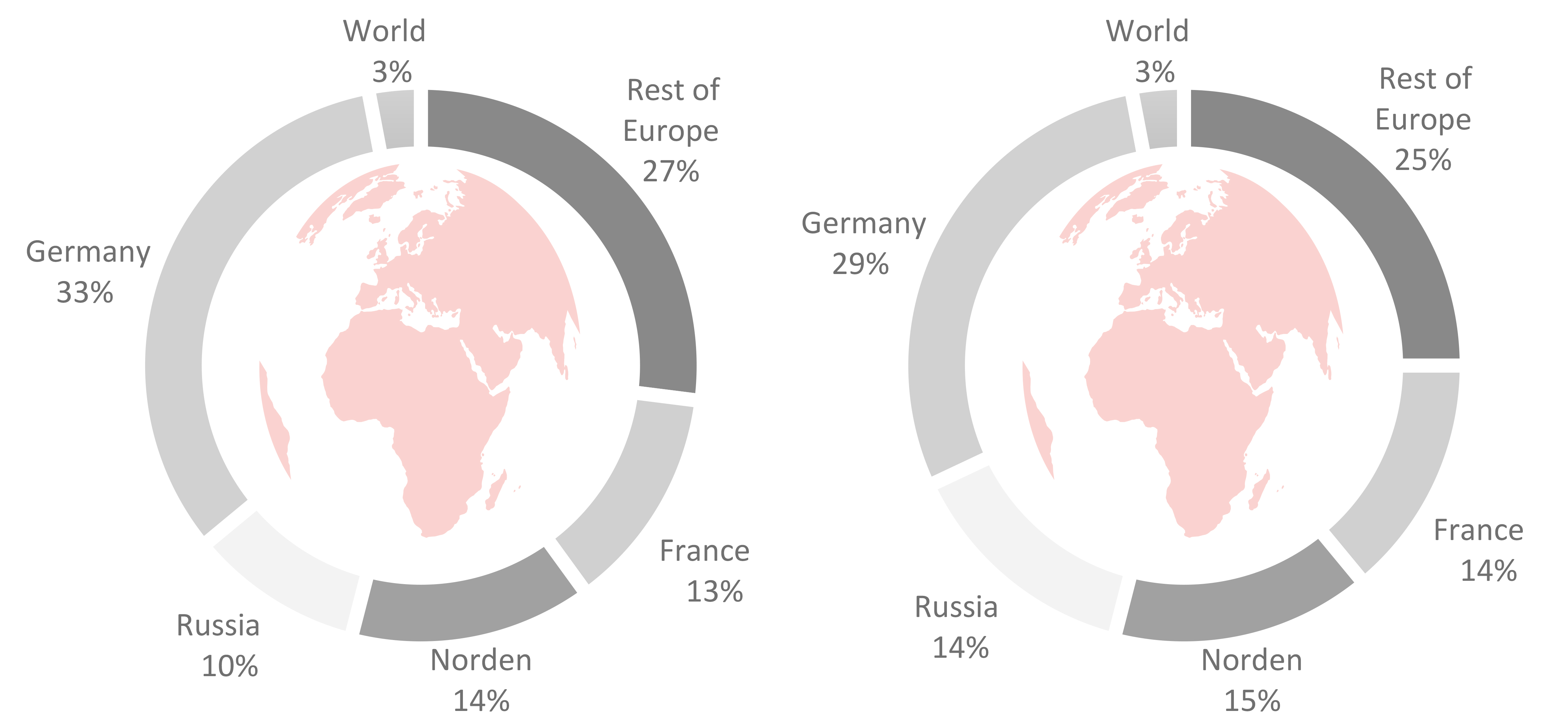 PERFORMANCE IN 2020
Due to COVID-19, SBS Automotive's revenue in 2020 decreased by 14.4% to DKK 454.8 million. The effect of the pandemic was higher in H1, where revenue decreased by 18.8%, whereas revenue decreased by 9.1% in H2. The decrease relates to lower volumes, increased price pressure on certain markets as well as a shift in the mix to customers and products with lower margins.
The operating profit before depreciation, amortisation, impairment losses and special items (EBITDA recurring) declined from DKK 41.4 million in 2019 to DKK 23.5 million in 2020, corresponding to an EBITDA margin of 5.2%. After years of pervasive optimisation of the supply chain and the business platform, SBS Automotive decided to largely maintain its capacity costs to be able to handle the tasks in 2020 and be well prepared for the expected normalisation of markets in 2021.

STRATEGIC UPDATE
The open automotive aftermarket in Europe is currently going through substantial changes with increasing consolidation among distributors and wholesalers. Large wholesalers and two global players (supported by private equity funds) acquire everything from small to market-leading wholesalers in the distributive trade.
A trend which primarily occurs on the large established markets, but also on the fragmented markets in Germany, France and partly the UK.
COVID-19 is expected to speed up the consolidation process in the markets as the financial position of several players, in particular small wholesalers and dealers, have worsened during the pandemic. The drastic changes in the market is underlined by the fact that several large chains have started sourcing goods directly from i.a. China and that car manufacturers to a higher extent now offer servicing all car brands to the open aftermarket. The end users' behaviour is also changing; for instance, the internet trade in spare parts gains ground, a tendency which has gained even more ground during the COVID-19 pandemic as the physical shops have been closed.
The SBS Group's analysis shows that to suppliers to the open aftermarket there are considerable advantages in engaging in cooperations, alliances, mergers or other consolidation initiatives which correspond to the scenario at the customer side. SBS Automotive is therefore exploring these opportunities at present.
Partnerships with large customers
As a response to the market development, SBS Automotive has, in recent years, been working on concluding partnerships with the largest and most solid distributors, wholesalers and e-commerce platforms on the most important markets as these customers participate actively in the consolidation race. The partner strategy was confirmed in 2020 where the Company's partner customers, including repair shops and technical partners, proved to be robust and capable of fulfilling their obligations.
Parallel to the partner strategy in Europe, SBS Automotive is cultivating new markets outside Europe. Emphasis is in particular on Turkey and the Middle East, where a number of initiatives were, however, put on hold in 2020 due to the COVID-19 crisis.
SBS Automotive is reasonably positioned to still develop its business in very competitive markets due to a flexible business model, a comprehensive sourcing platform and a broad product range. SBS Automotive creates value for its customers through high reliability of delivery and a product mix covering several price points, trademarks and private labels. The products are sourced directly from manufacturers in China, transported to Europe, packed, stocked and sold to a broad range of distributors and purchasing groups.
Competitive programme
As the largest customers have more complex requirements, SBS Automotive continuously expands its range with new, differentiated solutions. Focus in 2020 was in particular on implementing a no-deposit concept for brake callipers – probably the broadest programme in Europe – which SBS Automotive launched at the beginning of2020 both under the NK brand and as private label products. During the year, the concept was expanded to approx. 1,500 references, which covers more than 90% of the European car fleet. Also the roll-out of new solutions such as ABS sensors, shock absorbers and springs continued in 2020, and the Company worked on a sourcing consolidation solution. At the same time, SBS Automotive's sales staff continued to work the customers in Germany and other large markets so that SBS Automotive, given its very competitive programmes within i.a. callipers and shock absorbers, is ready when demand normalises during 2021.
SBS Automotive's objective is still to expand its market position and to ensure reasonable margins despite the temporary challenges resulting from the COVID-19 pandemic. Therefore, SBS Automotive maintains its long-term focus on market development, earnings, expansions of product range and continued streamlining of operations. The Company still pursues streamlining of the entire value chain from sourcing to the supply of end products to reduce complexity, costs and tied up working capital. The internal stocks and logistics flow is also streamlined, and better supply concepts are rolled out i.a. based on online trade.
Given the changes in the customer set-up and market approach, demands on the Company's supply chain are also changing. The number of day-to-day supplies, which are normally requested by small distributors, is still declining. The number of orders requiring delivery within 2-5 days and which meet the requirements of large customers for stocking of NK products is, however, increasing. This implies adjustments to the order handling.
PRODUCTS
SBS Automotive offers a wide range of wear parts for the European automotive aftermarket. The products are sold under the brand name NK or as private labels.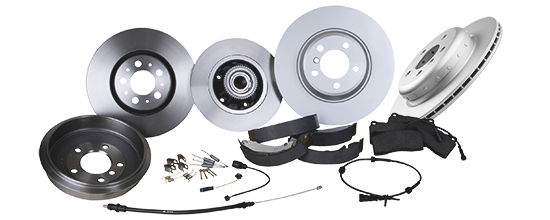 Mechanical brake parts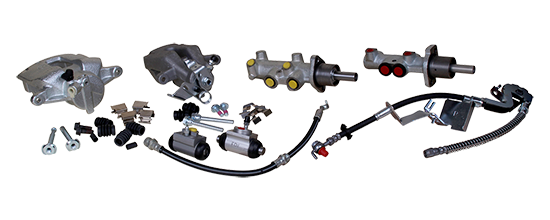 Hydraulic brake parts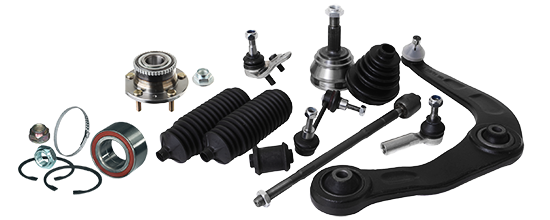 Steering parts and wheel bearing kits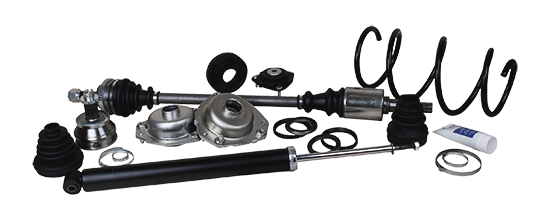 Suspension and transmission parts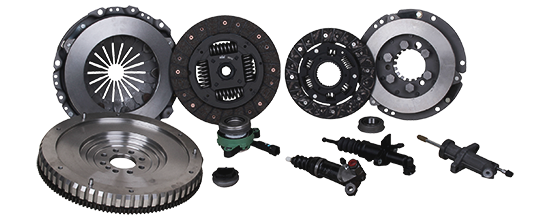 Clutch kits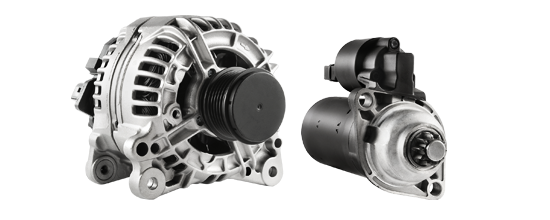 Starters and alternators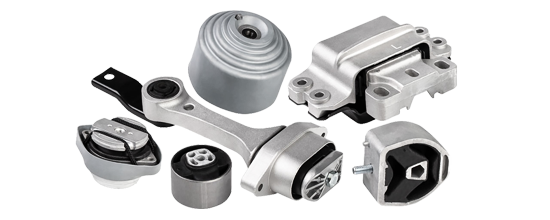 Engine mounts