FOCUS AREAS

Strong operating profit/loss (EBITDA recurring) of DKK 41 million in very difficult markets in Europe
PROFILE
SBS Automotive is the SBS Group's largest business line. SBS Automotive sources, completes, stocks, markets and distributes spare parts for cars and vans up to 3,500 kg.
The product range includes wear parts, particularly within the categories brakes, steering controls, suspension, transmission, clutches and engine mounts.
The products are primarily sold on the open European spare parts market for cars and vans. Germany is the largest market, and Russia, Scandinavia, France, Poland and Great Britain are important markets. Moreover, SBS Automotive's sales in the neighbouring regions Turkey and the Middle East are increasing.
Most of the markets are supplied and serviced from the distribution center in Eisenach (Germany), which also handles packaging of brake shoes. The satellite centres in Støvring (Denmark) and Chaumont (France) primarily focus on local markets. Moreover, SBS Automotive has a sales office in Moscow (Russia). Furthermore, SBS Automotive has logistics and packaging facilities for brake discs and drums in Stettin (Poland) in cooperation with an external partner.
The majority of volumes are sold under SBS' own brand, NK, and sales under own brand make up an increasing part of revenue. In Europe, the NK brand is positioned so that it represents a good alternative to premium brands in terms of quality, product range and logistics.
Consequently, NK is suitable for both distributors who only carry one brand in each product group and large chains that need a quality brand to supplement their premium brand.
The remaining part of sales is primarily made as private labels within brake discs, brake drums and brake shoes.
The customers comprise a broad spectrum of international, national and local distributors, including capital chains, purchasing groups and independent distributors.
MARKET CONDITIONS
The open automotive aftermarket in Europe is currently going through substantial changes with increasing consolidation where global operators, including private equity funds, source in the distributive trade and thus put pressure on small wholesalers. The consolidation continued in 2019, in particular in the large German market where demand also decreased.
The large chains also source more goods directly from e.g. China, and car manufacturers increasingly enter the open aftermarket with offers of service, spare parts, etc.
The end users' behaviour has also changed; for instance, on-line spare part trading is still growing.
SBS Automotive's response to the development is to increasingly focus on the largest distributors, wholesalers and e-commerce platforms in the individual markets because these customers are more robust and forward-looking in their behaviour, and their sales channels are also stronger. To meet the complex needs of these customers, SBS is continuously expanding its product range and maintains its long-term focus on marked development, earnings and continued optimisation of operations.
PERFORMANCE IN 2019
SBS Automotive's performance in 2019 was as expected affected by the weak market conditions resulting in declining demand in several very important European markets.
The market decline took effect towards the end of the first HY1 where SBS Automotive's revenue decreased by 4%. Conditions weakened in HY2 during which SBS Automotive's sales decreased by 6% resulting in a total decrease in revenue of 5%. SBS Automotive is, however, considered to have performed better than the markets in Europe.
The declining demand in several markets resulted in severe pricing competition and increased pressure on margins, partly because premium brands lowered their prices in an attempt to maintain market shares. In addition, SBS Automotive's margins were also affected by sales restructuring in i.a. Germany with increasing sales to large customers acquiring much larger volumes but at lower standard prices.
SBS Automotive succeeded to some extent in mitigating the effect of declining sales by streamlining operations, trimming costs, expanding assortment and introducing new market initiatives. Operating earnings (EBITDA recurring) therefore came in at DKK 41 million as expected against DKK 46 million in 2018. This includes a positive effect of DKK 6 million from the new accounting standard IFRS 16.
In Germany - SBS Automotive's largest single market and the largest free aftermarket - the market was changing with consolidation among distributors and wholesalers, declining demand and decreasing prices.
As far back as 2015, SBS Automotive redirected focus from small to large distributors to adjust its German marketing strategy to the changes in the market and customer behaviour. New resources have been added to the German sales organisation to support the new market approach. Adjustments are made to the marketing strategy on an ongoing basis and so far, SBS Automotive has entered into several partnerships with large German distributors, who have included the NK programme as part of their portfolios. Development in 2019 proved that these measures are achieving their objective. Although SBS Automotive's sales in Germany decreased, the company performed better than the market, and the E-commerce sale has increased after the conclusion of an agreement with an important operator.
SBS Automotive's sale on the Danish market decreased as the level of activities was extraordinarily low. Sales on the other Nordic markets - Finland and Sweden - remained more or less unchanged.
SBS Automotive's sale increased in France despite a decline in the market. The free French aftermarket is today dominated by a few large distributors as against several hundred small distributors previously. During the market consolidation period, SBS Automotive has succeeded in redirecting focus to the large distributors.
Sales also increased in Great Britain.
In 2017, SBS Automotive entered into a new cooperation agreement with a well-established, country-wide distributor, and sales increased in 2019 based on that cooperation as the distributor phased out private label products in favour of the NK programme and the product portfolio under the NK brand was expanded. Moreover, SBS Automotive established a partnership on the distribution of the EuroBrake brand to several small wholesalers, which also contributed to growth in Great Britain.
SBS also reported growth in markets such as Poland and Norway, which again was driven by large, nation-wide partners with primary focus on the NK programme. SBS Automotive is working on establishing the same position in Italy, in which the company concluded an agreement with a group of distributors in 2018 with approx. 40 regional members. In 2019, the agreement was introduced with the members of the group that focus on passenger cars. Sales in Italy are, however, negatively affected by weak domestic trading conditions.
Outside of Europe, sales in Russia remained almost the same, whereas sales in Turkey increased markedly, although from a modest level. SBS Automotive obtained its first order in the Middle East and efforts in that region will be strengthened in 2020.
INNOVATION
In 2019, SBS Automotive expanded its product range to allow the company to become a more attractive partner for the largest customers whose needs are more complex.
The range of shock absorbers and springs was expanded and now covers all requirements. Also within ABS sensors, which is a small category with growth potential, the range of products was strengthened. Moreover, SBS Automotive continued its roll-out of the new category of engine mounts parts which was introduced in 2018 and was well received by the customers.
Last year, SBS Automotive launched a no-deposit concept for brake callipers - probably the broadest programme in Europe. The concept is rolled out to all markets and offered as private label.
STRATEGIC DEVELOPMENT
SBS Group's Management completed a strategic analysis in April 2019 of SBS Automotive's possibilities in light of the consolidation of the free aftermarket in Europe. Based on the analysis, Management concluded that SBS Automotive is well positioned to expand its position and ensure reasonable margins.
The analysis uncovered several possibilities to strengthen SBS Automotive's position on the markets, and the possibilities are now being pursued. Examples thereof are the changed market approach in Germany among others, projects launched to increase the turnover rate of inventories of finished goods and to better source products such a callipers and shock absorbers from 2020 onwards.
Generally, SBS Automotive maintains its long-term focus on market development, earnings, expansions of range and continued streamlining of operations. The company is continuously working on streamlining the value chain from sourcing to the supply of end products to reduce complexity, costs and tied up working capital. The total process flow and supplier agreements are optimised regularly.
In terms of markets, SBS Automotive continues to enter into partnerships with large, international customers on the important markets in Europe while also cultivating new markets in Europe. Focus is on Turkey and the Middle East in particular.
Given the changes in the customer set-up and market approach, demands on the company's supply chain are also changing. The number of day-to-day supplies, which are normally requested by small distributors is declining. The number of orders requiring delivery within 2-5 days and which meet the requirements of the large customers for stocking of NK products is, however, increasing. Adjustments have been made to the order handling accordingly.
PRODUCTS
SBS Automotive offers a wide range of wear parts for the European automotive aftermarket. The products are sold under the brand name NK or as private labels.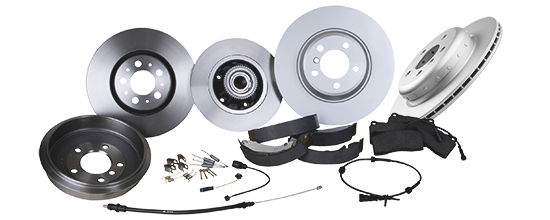 Mechanical brake parts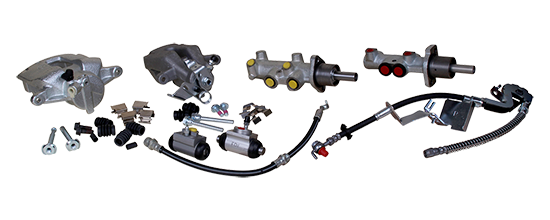 Hydraulic brake parts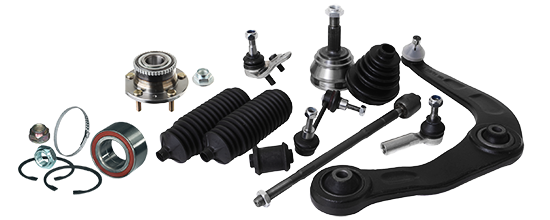 Steering parts and wheel bearing kits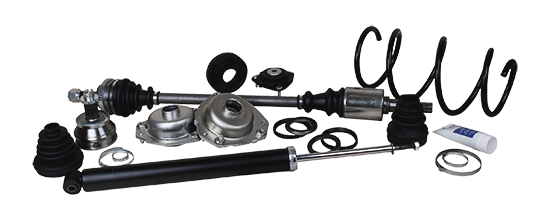 Suspension and transmission parts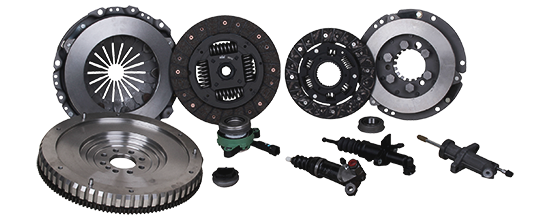 Clutch kits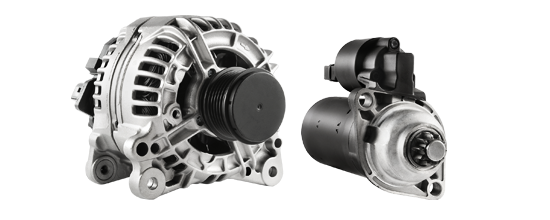 Starters and alternators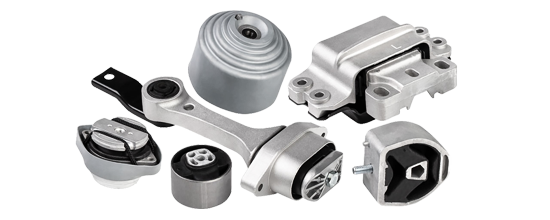 Engine mounts