FOCUS AREAS

Record EBITDA recurring of DKK 29 million driven by growth on the aftermarket and the OEM market
PROFILE
SBS Friction develops, manufactures and distributes brake parts and friction technology for motorcycles, scooters and ATV/UTVs as well as for a number of specialised areas that apply friction technology.
The product portfolio includes self-developed and self-produced brake lining as well as goods for resale in the form of brake discs, brake shoes, brake parts and coupling parts.
SBS Friction operates globally on the free spare parts market and within the OEM market. The company has customers on approx. 60 markets.
On the free aftermarket, SBS Friction is market leader within brake pads in Europe where the largest markets are Italy, Germany, France and Spain. In addition, the company has increasing sales in Asia, North and South America. Most of the volume in the aftermarket is sold under SBS Friction's own brand, SBS, and the rest as private label products.
On the OEM market, SBS Friction appeals to manufacturers of vehicles and brake systems for motorcycles, scooters, ATVs and other vehicles. The OEM market also includes manufacturers of wind turbines and other niches which use friction technology. SBS Friction's services on the OEM market mainly relate to developing solutions and products for factory assembly.
SBS Friction controls the main part of the value chain and is in charge of its own development based on considerable know-how within friction technology, own production, sales, marketing and a product range which lives up to the highest performance requirements, safety and wearing properties. All functions, including packaging and distribution are located in Svendborg (Denmark).
MARKET CONDITIONS
SBS Friction's primary market - the free aftermarket for spare parts for motorcycles, etc. - is very different from the aftermarket for spare parts for vehicles and vans on which SBS Automotive operates.
It is a niche market where SBS Friction is one of the few large, global suppliers, which sells to a network of specialised distributors. Consolidation of distributors takes place in a way that does not disrupt the value chain. Moreover, SBS Friction is the absolute market leader in Europe with a product portfolio which cannot easily be substituted due to the technological nature and the approvals granted by customers and brands. Finally, the SBS brand is a premium brand and that position is supported by branding activities, e.g. sponsorships within motor sports.
Its strong market position in the distribution chain was confirmed in 2019 by a customer satisfaction survey, which proved that customers were very satisfied with the brand and its positioning.
Direct internet sale of accessories for motorcycles to consumers is on the increase. Sale on the internet is, however, focused on equipment and expensive accessories, whereas consumers still tend to buy brake products, etc. in connection with regular services at workshops.
PERFORMANCE IN 2019
In 2019, SBS Friction reported record-high results of operation. The Company is thereby back on its growth track after 2018 where earnings were affected by a slight decrease in sales and investments in new products.
Revenue increased by 3% in the first half year of 2019 and in the second half year the increase reached 11%. Thereby, revenue increased by 6% to DKK 133 million for the year.
Operating earnings (EBITDA recurring) also increased by 38% to DKK 29 million compared to DKK 21 million in 2018. The increase is attributable to larger volumes, increasing margins and unchanged capacity costs. Moreover, IFRS 16 had a positive effect of DKK 2 million. Optimisation of production continued with further automation and improvements of processes in the entire value chain. Growth was noted in all sales regions in 2019. In Europe, the driving season for motorcycles started early due to the warm spring, which resulted in high activity for distributors and workshops as opposed to 2018 when the cold spring shortened the season and caused stock building in the distribution chain, which weakened demand for SBS Friction's products in the second half of 2018. In 2019, SBS Friction realised strong growth in all key markets in Europe, particularly due to sales under the SBS brand.
Outside of Europe growth reached a two-digit figure in Asia, which reported growth in the modern markets such as Japan, Australia and South Korea as well as in the new south east Asian markets, where SBS Friction has established distribution. Also North America developed reasonably well and reported high growth in Canada and modest growth in the USA where SBS Friction closed down its sales office in Daytona and started serving the market directly from Denmark.
One of the growth drivers was the couplings programme launched by SBS Friction in November 2018. The introduction of couplings for motorcycles as a new aftermarket product was up on expectations and the customers embraced the programme.
Likewise, Dynamic Racing concept contributed to a sales increase and the concept, which combines two lining types, strengthened the company's position in the attractive racing segment.
Sales to OEM customers also generated growth, and the number of enquiries from potential customers was record high. SBS Friction obtained additional validations in 2019 and has now obtained quality approval and is prequalified by several of the most important OEM customers, and the solid growing pipeline opens up for a number of opportunities on the OEM market, where the time from project start-up to finished product is long due to complex development and decision-making processes with the customers.
INNOVATION
In 2019, SBS Friction strengthened its product platform for the OEM market notably through the development of five new brake linings, and the platform now includes six linings. New linings are also in the pipeline.
At the aftermarket, SBS Friction also strengthened its portfolio i.a. by introducing a specialised solution for the relatively large go-cart market and a new, environment-friendly portfolio of ceramic linings specifically for the competitive scooter segment.
STRATEGIC DEVELOPMENT
SBS Friction's goal is still continued growth at the aftermarket and the OEM market. The aftermarket focuses on range, supply capacity and branding, whereas the OEM market focuses on innovation, technology and quality assurance.
Although SBS Friction is already market leader on the European aftermarket and has a high market share within brake lining, there is still potential. Growth is to come from new products within the core brake lining segment, partly by expanding the range with related products which are sold under the strong SBS brand via a well-established distribution network. Expansion of the range of commodities will be a focal point in 2020.
The expansion outside of Europe continues with new distributor agreements on markets where SBS Friction is not yet represented and with increasing support for distributors on the new markets in Asia e.g. with activities under Asia Road racing. On these markets, SBS typically positions itself as supplier for large motorcycles where there is potential for high-end products.
In recent years, SBS Friction has made considerable investments in establishing a strong position on the OEM market in development, production and quality assurance. The company is now reaping the fruit in the form of an increasing number of projects and requests from the world's leading manufacturers of brake systems and vehicles. With a growing pipeline, SBS Friction is well positioned for expanding on the OEM market through the supply of brake lining for factory assembly and motorcycle manufacturers' aftermarket programmes.
In 2020, SBS Friction will close a multi annual development project in cooperating with Danish Technological Institute in Denmark and the German Fraunhofer-Institut für Fertigugstechnig und angewandte Materialforschung (IFAM). With an investment totalling DKK 15 million of which more than half stems from the national Innovation Fund Denmark and the rest from SBS, the purpose of the project is to develop and mature the world's most environment-friendly brake pad, GreenPad.
GreenPad will more or less eliminate the use of heavy metals such as nickel and copper, which are released in the dust from conventional brake pads. The launch of GreenPad is planned for 2021 and will give SBS Friction a head start within environment-friendly products for the free aftermarket and the OEM market.
PRODUCTS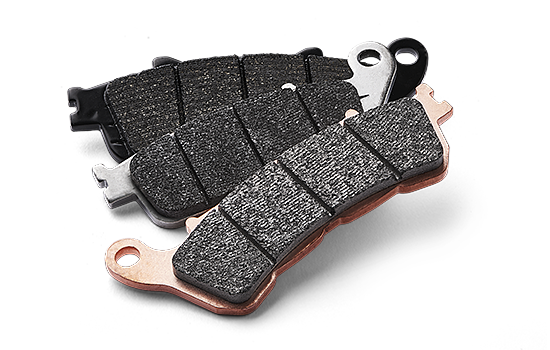 Brake pads
Street use
Offroad
Racing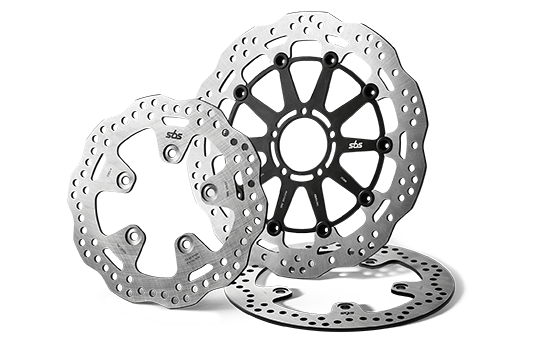 Brake discs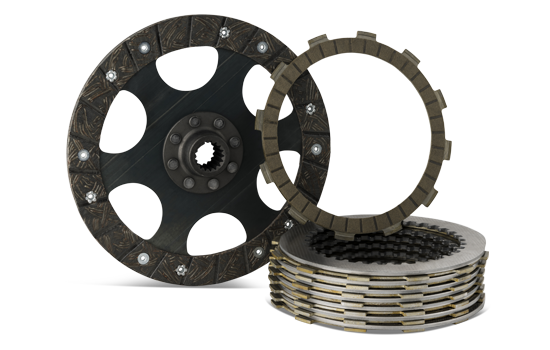 Clutch Kits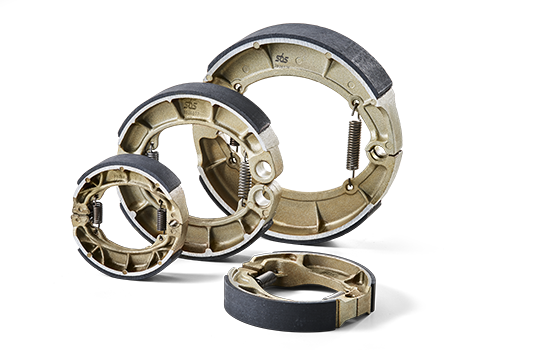 Brake shoes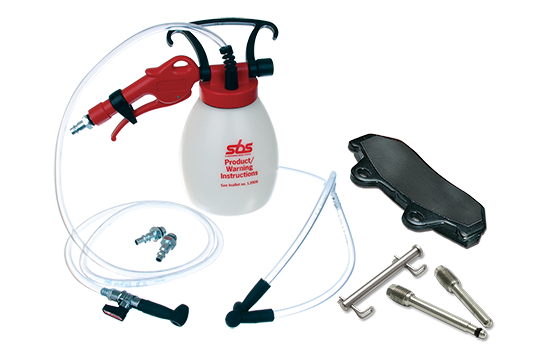 Accessory parts