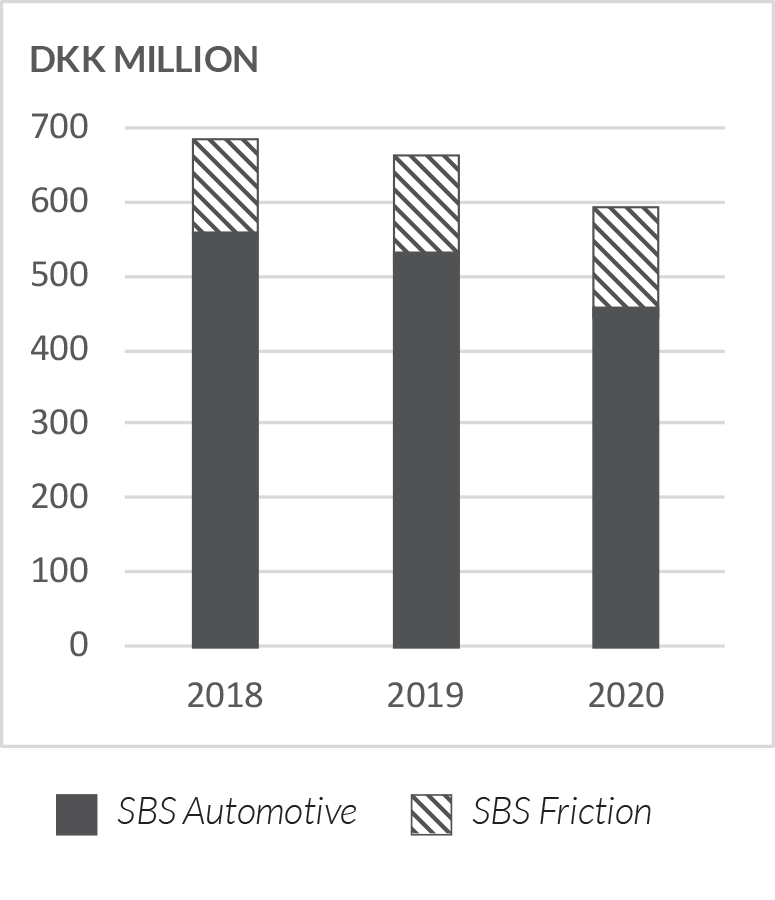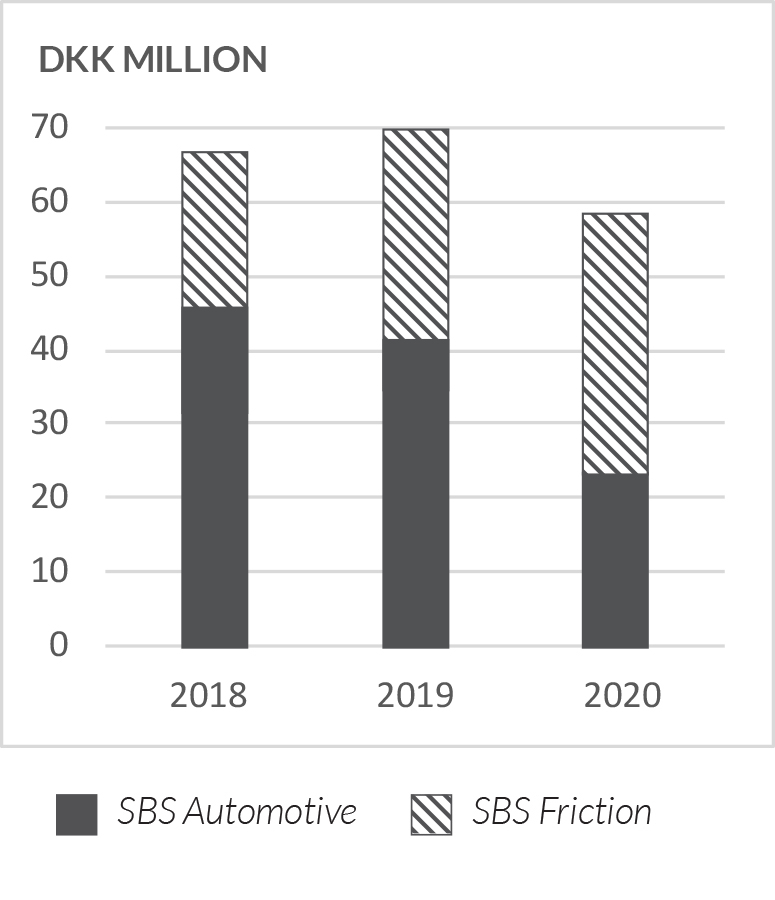 NET INTEREST-BEARING DEBT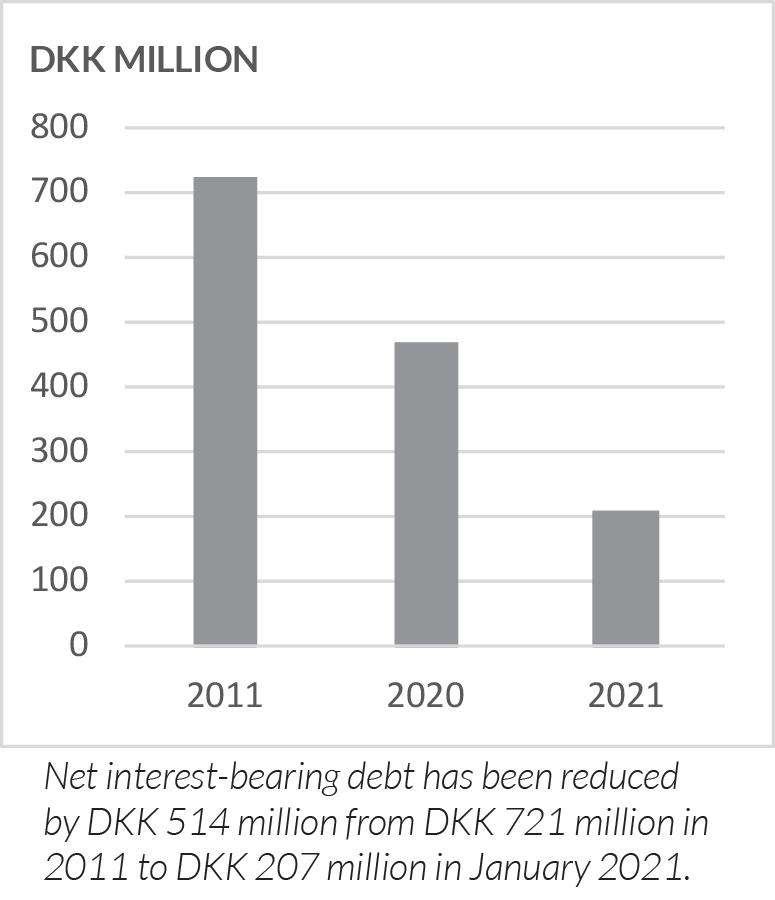 Due to the sale of SBS Friction effective from 7 January 2021, the division is presented only as a discontinuing operation in the income statement and as assets classified as held for sale and liabilities associated with assets classified as held for sale in the Statement of financial position. The comparative figures in the income statement have been restated.
INCOME STATEMENT
SBS Group's results of operation in 2020 were characterised by very difficult market conditions due to COVID-19 lockdowns and restrictions, decreasing driving in Europe and price competition and challenging supply chains from China in particular.
Consequently, revenue, which only derives from SBS Automotive, decreased by 14% to DKK 455 million.
Due to decreasing sales and a shift to customers and products with lower margins, SBS Automotive's operating profit before depreciation, amortisation, impairment losses and special items (EBITDA) decreased to DKK 24 million against DKK 41 million in 2019. Operating profit of the Group before depreciation, amortisation, impairment losses and special items thus totalled DKK 10 million against DKK 29 million in 2019.
EBITDA less special items of DKK 4 million totalled DKK 6 million against DKK 25 million in 2019.
Depreciation, amortisation and impairment losses totalled DKK 12 million against DKK 12 million in 2019, and operating profit (EBIT) then represented a loss of DKK 6 million against a profit of DKK 13 million in 2019. Finance income and finance costs totalled a negative DKK 28 million against a negative DKK 24 million in 2019, and profit from continuing operations totalled a loss of DKK 30 million against a loss of DKK 10 million in 2019.

Profit from discontinuing operations (SBS Friction) after tax totalled DKK 17 million against DKK 15 million in 2019. Despite the challenges following from COVID-19, SBS Friction noted a strong year with a decent increase in sales to the open aftermarkets as well as OEM customers.
The loss for the year thus totalled DKK 12 million against a profit of DKK 5 million in 2019.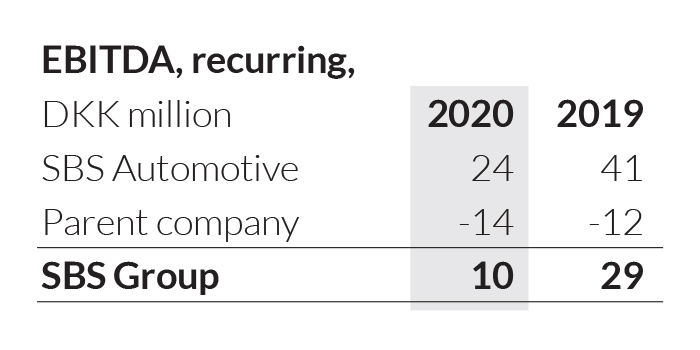 CASH FLOWS
Cash flows from operating activities were positive by DKK 38 million whereas they were negative by DKK 74 million in 2019. The marketable improvement is attributable to continuous efforts to reduce inventories of easily negotiable goods for resale. Moreover, there was a modest positive effect from VAT, A tax, etc., for a total amount of DKK 4 million, which is not to be settled until 2021 due to the extension of deadlines due to COVID-19.
EQUITY
Equity is still negative due to the considerable write-downs on Notox assets sold in 2009 and 2015. Equity at the end of the year totalled a negative DKK 155 million against a negative DKK 145 million in 2019, corresponding to a negative solvency ratio of 31.6% against a negative ratio of 27.4% in 2019. The change in the year is attributable to the loss for the year. Equity improvements in recent years were thus curbed by the COVID-19 effects on earnings in 2020.
LIQUIDITY AND FINANCING
In 2017, the SBS Group concluded a financing agreement with the Group's bankers. The agreement was prolonged by two years in June 2019. The financing agreement was changed in February 2021 due to the sale of SBS Friction. The financing agreement runs until 1 April 2022 after which it is subject to renegotiation. The financial and non-financial terms (covenants) are suspended in 2021 except for a term regarding CAPEX. Moreover, it has been agreed that no dividends are distributed for the three years during which the credit agreement is in force.
During the COVID-19 crisis in first half of 2020, the banks offered additional temporary credit lines. Those credit lines were suspended in the second half of 2020 where the SBS Group's liquidity was strengthened. This net interest-bearing debt totalled DKK 467 million at the end of the year against DKK 473 million in 2019. A successful reduction of working capital tied up in inventories primarily explains the decrease. Net interest-bearing debt corresponds to 46 times the operating profit before depreciation, amortisation, impairment losses and special items (EBITDA).
The financial resources at the end of the year totalled DKK 25 million and mainly comprised undrawn overdraft facilities in the Group's credit institutions. The financial resources are assessed to suffice for the financing of the planned activities in 2021.
PARENT COMPANY
The Parent Company's loss before tax totals DKK 93 million of which DKK 81 million is attributable to impairment losses on equity investments related to the SBS Automotive division.
The impairment loss is based on the annual impairment test, which is supported by an external valuation report prepared for the SBS Group in connection with Management's exploration and examination of the interest in consolidation among the suppliers in the open aftermarket as well as the general development in the SBS Automotive division's markets.
EVENTS AFTER THE STATEMENT OF FINANCiAL POSITIONS DATE
Sale of SBS Friction
On 7 January 2021, the SBS Group transferred SBS Friction and its production facilities in Svendborg to the Italian Brembo Group SpA, a global leading manufacturer of brake systems. The sales agreement was concluded on 17 November 2020, and the sale was adopted unanimously at the extraordinary general meeting on 17 December 2020 in the Parent Company, Scandinavian Brake Systems.
The sales price of DKK 300 million (enterprise value) implies an accounting profit of DKK 152 million in the consolidated financial statements, which will be recognised as profit/loss from discontinuing operations in 2021 when control is transferred to Brembo. As mentioned previously, the SBS Group used the entire proceeds from the sale to reduce the Group's interest-bearing debt in January 2021, which amounted to approx. DKK 207 million at the end of January 2021 against DKK 467 million at the end of 2020. After recognition of the profit on the sale of SBS Friction in the beginning of January 2021, the Group's and the Parent Company's equity amounted to a negative DKK 3 million and a positive DKK 100 million, respectively.